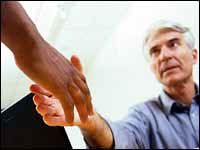 As a locally owned and operated company, we're committed to building long-term relationships with customers and employees alike.
We look for many qualities in the individuals we hire. A strong work ethic, a high level of organizational ability and effective interpersonal skills are a great start. However, there is one attribute in particular we seek: the never-ending passion for delivering great customer service.
If these are qualities you possess, you will find a rewarding career with us. We offer competitive compensation, ongoing training and a dynamic work experience that is both challenging and personally rewarding.
Current Openings...
Sign and Print Shop Production Assistant (West-End Richmond)
Located in the West End of Richmond VA, our sign shop is in search of a knowledgeable, fast paced but efficient and detail oriented member to join the crew on a part-time basis. We are a fast-growing Sign Shop with large format printing and vinyl plotting capabilities. We are looking for a crew member or assistant manager to help with back-end production and installations.
The ideal candidate should be proficient in graphic design programs such as Flexi, Adobe Illustrator, and Adobe Photoshop. Personal organization is a must as well as the ability to multi-task and effectively communicate with clients. Pride in their craftsmanship and a strong work ethic is also mandated. Vehicle wrapping, digital photography, sales experience, and the ability to handle multiple clients at a consistent pace would be bonuses.
There will be no "Cold Calls" nor "On-Site-Demos" required. You must have the ability to work as part of a creative team, communicating and exchanging ideas and solutions to accomplish project goals and meet deadlines.
The work times are from 8AM-5PM, Monday thru Friday with a mandatory 1-hour lunch as well as being off on all major holidays. Pay will range depending on your experience and knowledge of the sign industry.
Call, Text, or Email us at (804)-405-1143/(info@dominionsigns.com). If we do not answer, please leave a message and we will get back to you ASAP.
Thank You for your interest in employment at Dominion Sign Company!